Appleton, WI
Living Hope Lutheran Church
Website: http://appletonlutheran.com/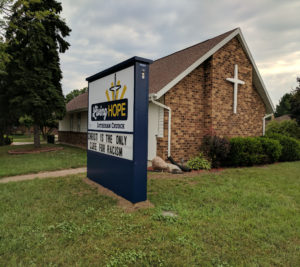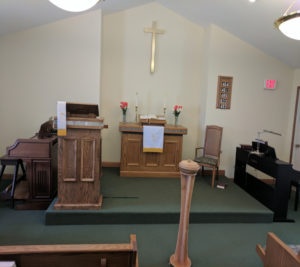 Worship 9:00am Sunday Morning
3100 East Calumet Avenue in Appleton, WI.
Our History
The CLC has had a bit of an on-again, off-again relationship with the Fox Valley. Pastor Ted Barthels was Pastor of a small group in Neenah back in, I believe the early 80's. They at one point had even purchased land but never built a church and after a time the group fell apart. We have two members at Living Hope who were a part of that group. The roots of our current Living Hope Lutheran Church in Appleton go back about a decade. There were a number of families in the area who were members of Luther Memorial in Fon du Lac or Faith in Markesan. They began holding services every other week up in Green Bay. Pastors Radichel and Krause served them. Around 2010 the group formally organized as Living Hope Lutheran Church. A few years after they called Pastor Michael Schierenbeck as part time pastor. He served for about a year. In 2014 they requested and received full support from the synod as a mission congregation and called for a graduate from Immanuel Lutheran Seminary in Eau Claire. Pastor David Ude was assigned the called and has been the Pastor ever since. Various buildings were rented over the years but then in April 2016 the Lord graciously granted the congregation an opportunity to purchase a permanent church building at 3100 East Calumet Street in Appleton.
Updates
We've had many opportunities to share the gospel with those in need and though we have not yet gained members this way, we are confident in the power and purpose of the Word of God.
This year's VBS gave us the opportunity to teach 15 little lambs of their Shepherd and Savior (9 were non-members) and we are beginning a once-monthly Friday Night Bible School and free babysitting night to continue those opportunities.
Also planned this year is a Seminar on the Reformation scheduled for the fall.
Divine Service Sundays at 9:00. From Labor Day to Memorial Day there is also Bible Study at 10:15. Wednesday Evening Vespers Services at 6:15 followed by Bible Study at 7:00. (Advent and Lenten services at 7:00 instead during those seasons).